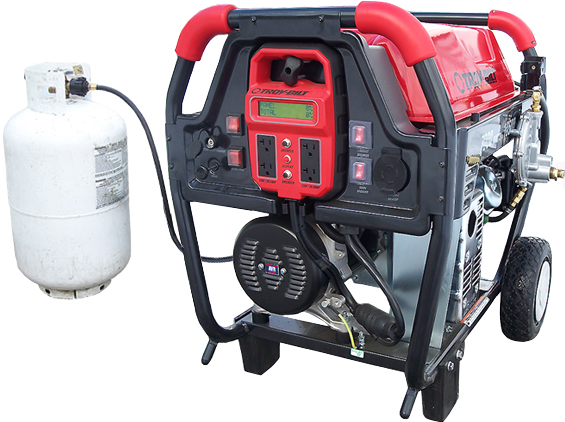 Triple-Fuel Troy-Bilt 10,500 Watt Generator - This brand new Industrial Portable generator features a 10,500 watt surge rating and operates on propane, natural gas and gasoline right out of the box. No mechanical alterations are necessary. Switch between fuels by simply changing your fuel source.

Triple-Fuel.
Propane, natural gas & gasoline.

This brand new Troy-Bilt generator has clean sine wave power for running your sensitive electronic equipment and features a premuim OHV 420 cc engine w/ electric start, 8.5 gallon fuel tank with fuel gauge, LCD display with power level in-use and maintenance reminders, main line circuit breaker, deluxe receptacle panel with 120/240 V full power output, automatic voltage regulator, battery float charger, all-terrain wheel kit w/ rubber tires and push-button electric start for fast, effortless starting!