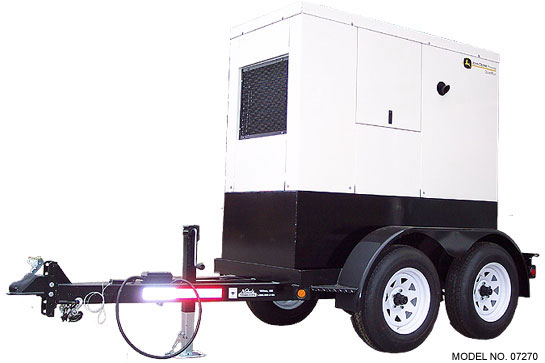 Mobile 55,000 Watt Diesel Generator - Bring the power to where it's needed! This mobile generator has plenty of power to light up your home, job site or business.

John Deere 4045TF.
Continuous-duty diesel engine.

This unit operates at 1800 RPM and comes with a muffler and 4 point vibration mounts for quieter operation. This unit features a 4.5L John Deere 4045TF diesel engine, direct injection, cast iron crankcase with replaceable wet-type cylinder liners, brushless generator end, solid state automatic voltage regulator w/ stability adjustment and underspeed protection, turbocharged aspiration, extended 500-hour oil change and filter interval, single-side service points, liquid cooling, residential-grade muffler, replaceable foam air filter element, control panel with hour meter and single-axle trailer with built-in 60 gallon subbase fuel tank.