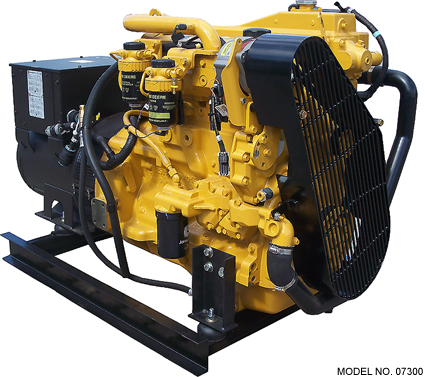 65,000 Watt Marine Diesel Generator - An engineer's dream, this set is simple to operate and maintain. This John Deere marine diesel generator is suitable for continous use and has plenty of power to run your house or fishing boat

John Deere 4045TF.
Keel cooling with wet manifold.

This unit operates at 1800 RPM and comes with a muffler and 4 point vibration mounts for quieter operation and crew comfort. This unit features a 4.5L John Deere 4045TFM85 diesel engine with keel cooling and wet manifold, replaceable wet-type cylinder liners, brushless generator end, solid state automatic voltage regulator w/ stability adjustment and underspeed protection, extended 500-hour oil change and filter interval, single-side service points, welded steel skid base and control panel with hour meter.