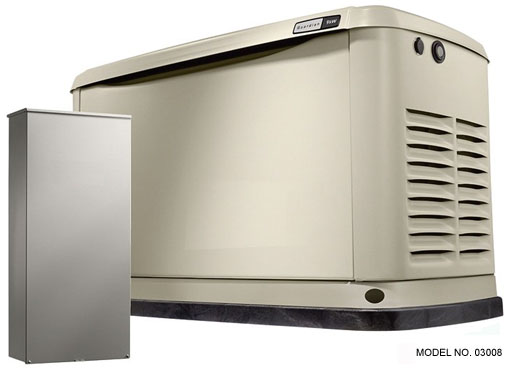 17,000 Watt Automatic Standby System - Starts automatically when your power fails and transfers your electrical loads to generator power. When utility power returns, the system transfers back to utility power and shuts off the generator.

Includes weather protective enclosure, composite mounting pad (for easier installation), flexible fuel line connector to your propane/natural gas pipe, automatic transfer switch with pre-wired 16 circuit load center and step-step installation guide with colored photographs.
Protect the things that matter most...with an automatic system.
Make an offer because quantites are limited.
This 17,000 watt generator features a 32 HP OHVI 992cc propane or natural gas engine, spin-on oil filter, low oil pressure shutdown, high water temperature shutdown, automatic voltage regulation, enclosed muffler, timed battery trickle charger and automatic 100 amp transfer switch with seven day exerciser, pre-wired conduits and built-in load center.