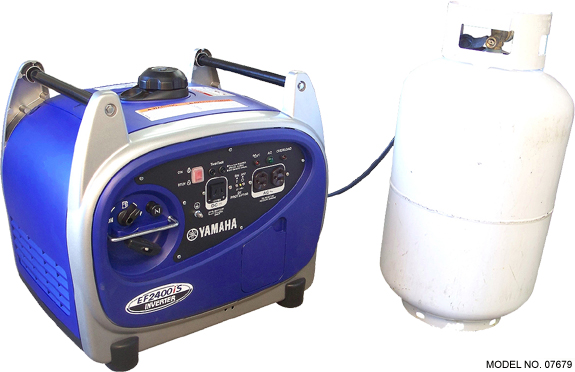 Triple-Fuel Yamaha EF2400iSHC Inverter Generator - Cleaner, quieter and more fuel options. The next step forward in generator technology. This Yamaha EF2400i operates on LP Gas, Natural Gas and Gasoline right out of the box, No mechanical alterations are necessary. Simply change your fuel source.

Smart Throttle™
Varies engine speed based on load.

This unit features a premium 5.5 HP 171cc Yamaha OHV engine w/ a cast-iron cylinder liner for longer life and brushless HD alternators with automatic voltage regulator to protect sensitive electronics. This genset is equipped with Smart Throttle™ that will vary engine speed with load demand, inverter system with Pulse Width Modulation (PWM) control (computer friendly), super-quiet muffler with USFS-approved spark arrestor (eliminates errant sparks), DC outlet for charging batteries, comfortable grip handles and a sound level of only 53 dBA at 1/4 load.